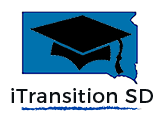 iTransition South Dakota
This app is for students with disabilities with an Individualized Education Program (IEP), ages 14 and older.
An IEP details your special education services.
The app produces a "Draft Transition Plan," based on your answers.
A "Transition Plan" is part of your IEP document.
A "Transition Plan" is your road map to transition to adult life after high school.
Instructions
Start a Transition Plan
Frequently Asked Questions
SD Transition Resources
©2017 Disability Rights South Dakota